Dear Jabari Parker, I've Been in Your Shoes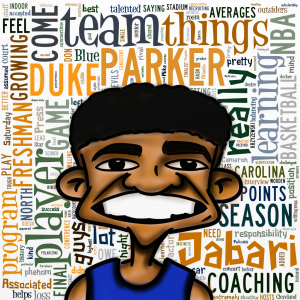 I remember the time when I was deciding between playing division 1 college basketball, going to the NBA, or going on a Mormon mission. This was a rough time in life when I was starting for Duke and just couldn't help but keep my PPG average below 30.  I had NBA scouts checking me out more than the co-ed's. I had to make a decision. I decided to go to the NBA; however, in a freak accident I accidentally signed my Mormon mission contract rather than my NBA contract and before I knew it I was in Sacramento, California with a thick part in my hair, knocking doors, while getting way too fat for the NBA. By the time I got home I was just not up to par with the talent in the NBA and now I build website for a living.
IMAGINE WHAT I COULD HAVE BECOME ON THE WORLD STAGE!
So, Jabari, hear me out! I want you to wait until May 20 before you decide whether to go into the NBA. If the Utah Jazz get the number one pick, the NBA is the place for you. If they drop to 2 or higher, you should be a valiant servant and go get fat on a mission.
I hope my advanced wisdom helps.